ROSACEA
Written by Slawomir ("Swavak") Gromadzki, MPH
Rosacea is a chronic and progressive autoimmune problem involving different factors and characterized by facial pimples, redness on cheeks, nose, and forehead, visible small blood vessels on face, irritated or bloodshot eyes, etc. Find out more about Autoimmune diseases >
CAUSES
The following most common factors are believed to contribute to rosacea: Stress and anxiety, junk food high in sugar and bad fat, refined products (white flour, refined pasta, etc.), allergies, mercury and lead poisoning, heated animal protein (especially dairy), gluten, alcohol, coffee and other stimulants, overactive and oversensitive immune system, leaky gut syndrome and inflammatory gastrointestinal tract disorders (ulcerative colitis, Crohn's disease, celiac disease, etc.), nutritional deficiencies (especially lack of vitamin D, magnesium, zinc), deficiency of probiotic bacteria in the gut, candida overgrowth, hot meals, etc.
TREATMENT
– In order to speed up the recovery implement principles included in HEALTH RECOVERY PLAN > and AUTOIMMUNE DISEASES (as rosacea is one of them) >
Since rosacea can be caused and influenced by many different factors you will be much more effective if you manage to cope with all of them at the same time.
In order to reduce facial redness implement principles from FACIAL REDNESS (ERYTHEMA), SPIDER VEINS & BROKEN CAPILLARIES (TELANGIECTASIA) >

HERBAL REMEDIES & SUPPLEMENTS
Externally:
– Hot applications of Golden seal tea or tincture mixed with worm water.
– Fresh, natural Aloe vera juice or gel.
– Amazing healing properties of Clay have been known for centuries in many cultures around the world. Cleopatra used Dead Sea clay twice a week in order to maintain her skin smooth and unblemished. Back in Poland I used and recommended this wonderful remedy externally and internally for many different conditions (including rosacea) often with great success. There are different types of clay such as Kaolin Clay (White), Green Clay, Bentonite (Grey/Cream colour), or Rhassoul Clay (Moroccan Red Clay). All of them can be effectively used to detoxify, regenerate and nourish the skin, to eliminate inflammation, or brighten dark areas.  Clay mask is also one of the most effective ways to get rid of dark spots and to effectively treat almost any skin problems.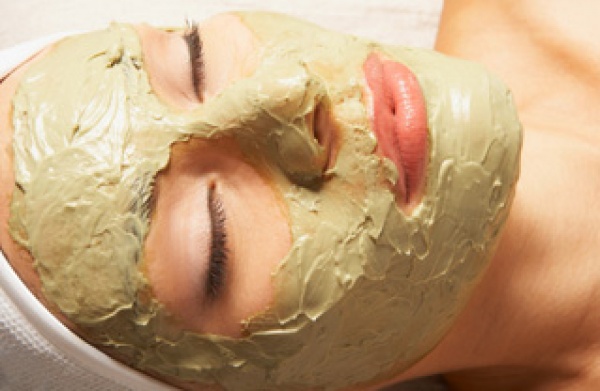 In order to make a face mask mix two tablespoons of any type of clay with two 2 tablespoons of hot water (distilled would be the best), or rose water, or the same amount (2 TBS) of strong Calendula tea (or Comfrey tea), and 1 teaspoon of fresh lemon juice.
Mix all ingredients together thoroughly, wash your face with distilled water or clean with aloe vera juice and apply the mask on the skin. Let it dry for about 30 minutes and rinse.
Note: Do not use any metal tool to mix clay with other ingredients. Use a wooden or glass instrument to keep clay potent and effective.
To get much better results the mask needs to be left on the skin much longer or even overnight (only if you are able to sleep with it). You should also enrich the above ingredients with 1 teaspoon of cold pressed Olive oil, Evening primrose oil or Castor oil. Mix all ingredients together thoroughly, wash your face with distilled water or clean with aloe vera juice and apply the mask on the skin. This time you also need to cover the mask with a Clingfilm to prevent it from drying.
Some ladies who left a Green Clay mask on face overnight told me it worked like a magic. In case of a dry skin try to use a raw organic coconut oil or vitamin E oil after removing the mask.
Internally:
 – Zinc (50 to 100mg after meal). Zinc works well for rosacea. If you feel nausea after ingesting zinc supplements try zinc citrate and take it only after meals.
– Vitamin D3 (20,000 IU a day) >. Deficiency of this extremely important vitamin is regarded as one of the key causes of autoimmune diseases (including rosacea). Without adequate vitamin D your body cannot control infection, in your skin or elsewhere. You also need about 400mg of magnesium citrate two times a day as vitamin D supplements lead to magnesium deficiency.
– Clean greens powder (Pukka) is one of the most powerful natural remedies I know. Take 1 teaspoon of the powder 30 min before breakfast with vegetable juice or water and 1 teaspoon 30 min before lunch. Clean Greens is one of the most powerful remedies I know as many of our customers told me how effective this formula was in dealing with skin conditions, inflammations, back pains, chronic fatigue, diabetes, cancer, gastro-intestinal problems, liver and kidneys problems, weak immune system, etc. It consists of organic blend of 11 super-rich mostly freeze-dried green super foods including Wheat Grass Juice (30 times stronger than regular juice!), Nettle, Chlorella, Spirulina, Kale Sprouts, Seagreens, freshwater plants and digestive herbs. Made with some of nature's finest herbs, grown in fertile organic soils it captures the incredible essence of nature's bounty.
– Magnesium citrate – 800mg a day.
Like in case of all all autoimmune conditions increasing the number of the gut probiotic bacteria is vital to deal with rosacea.
– Pau D'Arco (Tabebuia impetiginosa) 50ml Liquid >
– Ladies with rosacea who at the same time suffer from hormonal imbalance may try Agnus Castus as it is the best herbal remedy I know to treat PMS and regulate one of the female sex hormones – progesterone. However, not too many people realise that men produce some progesterone too. In our bodies it used to prevent testosterone (male sex hormone) from converting into an inflammatory type of testosterone which may contribute to various inflammatory skin problems.
NUTRITIONAL RECOMMENDATIONS
– No gluten, low or no grain diet (stimulate igf-1).
– Low-glycaemic diet, no simple sugars (fructose, white flour, corn syrup, etc.), no chocolate & cheese, low fruit diet (fructose), more raw vegetable juices and raw vegetables.
– Try avoiding dairy, sugar, meat.
– Learn to control stress and train yourself to think positive as low mood, irritability, anxiety and depression are believed to be key causes of autoimmune diseases such as rosacea. Find out how to treat anxiety and depression >
– Getting plenty of high-intensity exercise helps your body flush out toxins, including those in your skin's pores. Plus, exercise is vitally important to all other aspects of your health. If you happen to have access to an infrared sauna, this can be helpful, because the more you sweat, the more you flush unwanted debris and contaminants out of your pores.
– Avoid sex during treatment as frequent orgasms lead to zinc deficiency and hormonal imbalance. Read about side effects of masturbation >
– Drink plenty of distilled water every day so that your urine is a pale. If your urine is yellow, you probably need to drink more water (unless you take B vitamins, which themselves turn urine yellow). Read more about distilled water >
– Also a low-grain diet and avoiding gluten containing grains and products will very likely clear up your skin!
– Avoid antibiotics.
– Your diet must be anti-inflammatory and high in fresh vegetable juices, vegetable smoothies and / or salads.
– Simply eliminating grains, sugars (particularly fructose), cereals, potatoes, corn, rice, pasta, processed foods, etc., radically improves rosacea for most people. Fruit contains a fair amount of fructose, so it should be consumed in very limited quantities. And fruit juices should be strictly avoided since the sugar is very concentrated in them. (Vegetable juices are great, though, especially green juices.)
– Many of today's skin care products and cosmetics are nothing more than a toxic mixture of chemicals which cause more skin problems than they solve. And when it comes to rosacea, these chemicals can seriously inflame an outbreak, or prevent one from healing.
– You should spend few minutes every day cleansing your face, which removes the impurities that collect on your skin during a typical day and clog up your pores. And ladies, please never sleep in your make-up.
– Did you know that a good night's sleep can decrease your stress and lead to clearer skin? Your body's time for healing and rebuilding is at night while you sleep, and this applies to your skin. Sleep is also required for good energy and mood.
– Since rosacea is a condition caused by an oversensitive immune system the most important part of the treatment is included in the article about Autoimmune diseases >
MOTIVATION & EMPOWERMENT
– Because from my own experience I know and remember how difficult it was, in my case, to control stress, change my eating habits and give up on junk food and stimulants using my own pathetic at that time will power, I would like to encourage you to try gaining strength by connecting to a Higher Power.
If you believe in existence of God don't forget about daily meditation (fervent prayers): "Rejoice always, pray continually, give thanks in all circumstances; for this is God's will for you in Christ Jesus" (1Thessalonians 5:16-18, NIV).
Another excellent way to gain moral and spiritual strength is by reading or listening to a good spiritual literature, such as the Bible (start from Gospel of John and other Gospels), Desire of Ages > and "Ministry of Healing" > by Ellen G White (available online free of charge) which present God as loving, healing, forgiving, empowering, carrying and saving from eternal death Person.
All this will greatly increase the effectiveness of your improved diet and lifestyle according to the inspired promises: "Do not be anxious about anything, but in every situation, by prayer and petition, with thanksgiving, present your requests to God. And the peace of God, which transcends all understanding, will guard your hearts and your minds in Christ Jesus" (Philippians 4:6-7, NIV).
I also recommend to you reading or listening to a book "Steps to Christ" > and Great Controversy > by Ellen White. If you carefully study all the information presented there and follow the steps, you will not only become victorious but will actually experience an inward transformation which will enable you to enjoy your new lifestyle (including diet and physical activity).
– Get spiritual and moral empowerment from the chapter Motivation and Empowerment >.
 Share this article!
SOURCES
Labrie F, Luu-The V, Labrie C, et al. Intracrinology of the skin. Horm Res. 2000;54:218–229.
Thiboutot D, Harris G, Iles V, et al. Activity of the type 1 5α–reductase exhibits regional differences in isolated sebaceous glands and whole skin. J Invest Dermatol. 1995;105:209–214.
Thiboutot D, Knaggs H, Gilliland K, et al. Activity of type 1 5. -reductase is greater in the follicular infrainfundibulum compared with the epidermis. Br J Dermatol. 1997;136:166–171.
Karrer-Voegeli S, Rey F, Reymond MJ, Meuwly JY, Gaillard RC, Gomez F., Androgen dependence of hirsutism, acne, and alopecia in women: retrospective analysis of 228 patients investigated for hyperandrogenism., Medicine (Baltimore). 2009 Jan;88(1):32-45.
Any information or product suggested on this website is not intended to diagnose, treat, cure or prevent any medical condition. Never disregard medical advice or delay in seeking it because of something you have read on this website. Consult your primary healthcare physician before using any supplements or making any changes to your regime.
© 2016 Slawomir Gromadzki – All Rights Reserved