HEALING RECIPES
Below I included some very good examples of healing recipes that will help you to prevent and treat different health problems.
There are also many websites that provide free healthy plant-based delicious recipes that will greatly improve your health.
But please remember that whatever plant-based recipe you find online it should be carefully chosen, judged and used in accordance with the information included in the HEALTH RECOVERY PLAN. For instance, if there is a sugar or another unhealthy sweetener among the ingredients substitute them with coconut sugar, xylitol or stevia. Instead of bad fats, oils and margarines use raw organic coconut oil, etc.
In order to prepare your meals you will need a good food processor or a blender (such as Ninja) as it is not so pricey but as good as the very expensive ones. Also using a slow cooker, and copper stone frying pan instead of teflon one, and replacing microwave with halogen oven would be a very good idea.
And finally, please remember to practice all the principles included in this book. For example, always before consuming any cooked foods, first drink a glass of a vegetable juice (30 minutes before meal) or at least start your meal by eating a big portion of raw vegetable salad or fresh fruits as these foods can be still classified as living and have much greater nutritional value as well as preventive and healing properties.
RECIPES
Vegetable Salad
1 cup shredded carrots, 1 cup tomatoes, 1 cup cauliflower (cut into smaller pieces), 1/3 cup white or red finely cut onion, 1/4 cup Vegan Mayonnaise or Humus, sea salt.
Mix all ingredients together and serve with cooked legumes, potatoes, bread, etc.
Thin Pancake Crepes
Mix or blend 100% organic wholemeal flower with water and Celtic salt.
Heat up 1 or 2 frying pans, sprinkle them with very little of coconut oil and make thin pancakes.
Mash 1 or 2 bananas together with 1 tablespoon of home-made or organic peanut butter or other nut butter (sugar-free and oil-free).
Fill the fried pancakes with the paste (or if you prefer with Cashew Cream, apple sauce, or any other sweet and healthy filling). Spread the filling around the pancake and roll or fold it.
Raw Carrot Cake With Cream Cheese Frosting >

Nut & Date Raw Bar

Equal amounts of nuts and pitted dates (200-500g raw cashew nuts, peanuts, almonds or other nuts) and a similar amount of soft stoned Medjool dates).
Line a baking tin with cling film or wax paper. In a blender or food processor, blend the nuts. Add the pitted dates and continue blending until smooth and well mixed with nuts. Press the mixture evenly into the tin and refrigerate for at least 30 minutes. Remove the cling film and cut into bars. Store in an airtight container in the fridge.
For different flavours see the ingredients of raw NAKD bars (my favourite) >
Hummus
Delicious cooked Chickpeas (Garbanzo) and Tahini (sesame seeds butter) blended together.
3 cups of soaked overnight and cooked chickpeas (drained and rinsed), 1/4 cup Tahini, 1/3 cup of freshly squeezed lemon juice, 1/3 cup (or more) water, 2 cloves crushed garlic , 2 tbsp olive oil, 1 teaspoon sea salt.
Blend all the ingredients except chickpeas in a blender until smooth.
It can be eaten immediately, but gets even tastier after you let it cool down and refrigerate for a few hours before serving with pita wedges, crispbreads, raw or cooked vegetables, potatoes, or slices of whole grain breads.
You can add some herbs, parsley, olives, etc.
Smoothies
1/2 to 1 cup rice milk, almond milk or soy milk, 1/2 cup cashew nuts (optional), 3 bananas, 1 apple (cored and diced) (Instead of apples you can use any other available fresh fruits such as berries, strawberries, etc.), 2 tablespoons wheat germ (optional), 5 dates,1 tbsp lecithin granules (optional), 1 tbsp flax oil. Blend all ingredients together.
Omega-3 Smoothie

The following smoothie recipe is in my opinion the best way to consume flaxseed and chia seeds and it should provide sufficient amount of Omega-3 in the form of ALA and even some EPA and DHA (from chlorella & spirulina). In addition, this mixture will boost your energy, detoxify and regenerate your body and give many other health benefits:
Ingredients: 1 large carrot, 1 large beetroot, 2 tablespoons flaxseed, half glass of soaked 2 tablespoons of chia seeds, 1 tablespoon of organic chlorella, 1 tablespoon of organic spirulina, 1 glass of plant milk (coconut, almond, etc.), coconut water, or another healthy liquid. The most important in this recipe are 3 ingredients: flaxseed, chia seeds and chlorella, plus a healthy liquid. Other ingredients are optional and and can be changed.
Blend all ingredients and add more liquid if the smoothie is too thick. Keep in mind that like flaxseed, chia seeds are very effective in absorbing water, so if you don't want to soak chia seeds before blending you need to use more liquid.
Divide the mixture into 2 portions and have one about 15 minutes before breakfast. Store the other half in the fridge and have it before lunch.
Bean/Chickpeas) Paste (Spread)
3 cups of soaked overnight and cooked kidney beans or chickpeas (drained and rinsed), 1 chopped onion, 2 cloves crushed garlic, 2 tbsp olive oil (optional), 1/2 tsp marjoram or another herb, 1 teaspoon sea salt.
Blend all the ingredients in a blender until smooth (add boiled water if needed).
It can be eaten immediately, but gets even tastier after you let it cool down and refrigerate for a few hours before eating with crisp bread or whole grain bread.
You can also add parsley, olives, etc.
Buckwheat Burgers
2 cups cooked buckwheat (or cooked barley grits), 2 diced onions, 1 cup chopped mushrooms, 1 cup spinach, 1 tbsp. soya flour mixed with 2 tbsp water (acts as a binding agent), 1 Tbsp raw organic coconut oil, 1 tsp rosemary, 1 tsp sage, sea salt.
Mix all ingredients together adding hot water if required. Form burgers, grease a baking tray and place burgers on it carefully. Bake for about 15 to 30 minutes or until the tops are brown. Turn over carefully and repeat.
Home-made Vegan Yogurt > (for Instant Pot >)
Delicious Vegan Big Mac (raw, living food, vegan) – The author of this recipe is Sashen Chetty (see video below)
An attempt to make a raw living vegan big mac. Following as closely as possible to the McDonald's replacing with raw vegan ingredients.
Ingredients
1 9cm diameter sized sesame seed bread
2 9cm diameter sized plain bread
2 patties (flattened to bun size)
2 tablespoons Big Mac sauce (recipe follows)
2 teaspoons finely chopped onions
1 slice Macadamia cheese slice
2 pickle slices
¼ cup shredded lettuce
Big Mac Sauce
21ml Thai coconut water
27.2% of 1 garlic clove
12.375ml lemon juice
1.625ml sea salt
6.94ml cup stone-ground mustard
32ml raw macadamia nuts, pine nuts, or cashews (or any combination of the three)
11.25ml olive oil
9.25ml raw apple cider vinegar
7.5ml fresh basil leaves
3.75ml fresh oregano leaves
5ml pure water
1.5ml blended tomato
0.25ml Nama Shoyu®
0.25ml agave nectar
2ml sun-dried tomatoes
5ml xylitol
Not vitamixed
15ml very finely chopped onions
½ tbl sweet relish
2 tsp dill pickle relish
Big Mac Cheese
Macadamia nuts
Coconut water
Nutritional yeast
Salt (Celtic or Pink)
Bread
Makes 6 buns 9cm diameter
½ large yellow onion
1 cup ground flax
1 cup ground sunflower seeds
93.75ml Nama Shoyu®
3 tbl olive oil
1 tsp sesame seeds
Peel and halve the onions. In a food processor, cut the onions using the slicing blade. Transfer the cut onions to a mixing bowl, add the remaining ingredients, and mix until the ingredients are thoroughly combined.
Cut Evenly 6 slices using a 9cm diameter molder or lid and then put onto a dehydrator tray with a Teflex sheet. Dehydrate at 100° for 36 hours, removing the Teflex sheet after the first 24 hours.
Burger patties
¾ cup soaked almonds (3 to 4 hours)
¾ cup soaked walnuts (3 to 4 hours)
¾ cup soaked sunflower seeds (3 to 4 hours)
1¼ cup chopped Portobello mushrooms marinated lightly in Nama Shoyu or Tamari.
½ diced yellow onion
1½ cups chopped celery
¼ bunch chopped parsley, stems removed
5 garlic cloves, minced
42ml olive oil
16ml whole cumin seed
½ cup Nama Shoyu or Tamari
¼ bunch chopped tarragon, stems removed
¼ tsp cayenne pepper (optional)
Use a 9cm mould lid to shape burger. D
Putting it together
1. Allow the sauce to blend overnight
2. Take 2 pieces of the bread and put 1 tablespoon of the sauce on them.
3. Put 1 tsp of the onion onto each sauced bun.
4. Put 1/8 cup of the lettuce onto each sauced bun.
5. Place the slice of cheese on one bread and put the pickle slices the other bread.
6. Stack a burger patty on each bread.
7. Pick up, carefully, the bread with pickles on it and stack it on the other bread.
8. Place the top of the sesame bread on top of the burger. (source)
Quick Red Lentil Soup
1 or 2 cups red lentils, 1 chopped onion, 2 chopped potatoes, 1 chopped carrot, 1 chopped celery stalk, 1 clove garlic, 1 tsp sea salt.
Boil the water first, add lentils and other ingredients, bring to boil, reduce hit and simmer till tender for about 15 minutes. Add chopped parsley when ready to eat.
You can make the same soup using green lentils but they need to be soaked overnight and boiled in a pressure cooker.
Slimming Vegetable Soup
Some scientific studies proved that eating vegetable soups are very effective in reducing the number of calories consumed as well as increasing satiety and reducing participants' hunger. Drinking a glass of water with meals, however, only disturbed digestion and had no effect on satiety or amount of consumed calories. For this reason remember to drink water only between meals (2 hours after or 1 hour before).
Of course, it is much healthier to drink raw and fresh vegetable juices and eat raw vegetables than vegetable soups, and for this reason each time before consuming your Slimming Soup first eat some raw vegetables or, even better, drink fresh vegetable juice approximately 15 to 20 minutes in advance.
This soup is nutritious, rich in veggies, and thus very low in calories, and it will help you to fill your stomach and overcome hunger. You can make changes based on what vegetables you like or have at home.
Examples of ingredients you can use (according to your taste preferences): cabbage, cauliflower, carrots, leek, sweet red or green peppers, celery, onion, diced tomatoes (tomato sauce, paste, or juice), beetroots, etc.
Avoid: white flours, fat, oil, hot spices.
Remember to leave some raw vegetables (or even better drink a glass of fresh vegetable juice) and consume them before eating the soup.
Chop all the ingredients and put them into boiling water.
Before cooking vegetables always first boil water alone (for about 2 minutes), then add vegetables, lower the heat cover and simmer for about 10 to 20 minutes or until the vegetables are tender, stirring once in a while. In this way before placing vegetables into water you remove oxygen from it and may save up to 20 times more vitamin C (according to Earl Mindell). Unfortunately, the longer you cook them the less vitamins you will have. It is better to use steam or pressure cooker.
If you want to lose more weight it is better to cook only vegetables but if this soup does not satisfy your hunger and taste you can add to it other ingredients such as: basil, oregano, parsley, mushrooms, oat bran, 'Biona' or other Organic Rye Breads, German Rye Bread, whole-grain rye crackers (crispbreads), barley grits (fine ground barley), peas flour or soy flour, cooked brown rice, cooked beans, green lentils, buckwheat, or green peas, etc. Red lentils are good and quick addition as they require only about 10 minutes of cooking.
Roasted Potato Salad (VIDEO >)
Beetroot Beans Soup
2 cups of cooked broad or kidney beans, 2 chopped onions, 3 or 4 peeled and chopped beets, 4 chopped garlic cloves, 2 large diced potatoes, 2 or 3 diced carrots, 6 roughly chopped mushrooms, 1 large diced turnip, 2 chopped celery stalks, 1 teaspoon marjoram, sea salt, 2 teaspoons fresh dill.
Soak beans overnight, remove water and cook in a pressure cooker with new water. After cooking beans, add other ingredients except fresh dill. Bring to a boil, reduce the heat, cover and simmer till soft.
Vegan Mayonnaise
As a main ingredient you can use 1 cup of Tofu, or 2 avocados, or boiled potatoes, or soaked cashew nuts, etc., and blend it in a blender with: 1/4 cup (or more) of liquid coconut oil, cold pressed olive or flax oil, 1 tablespoon of apple cider vinegar, 1 small raw onion, 1/3 cup warm filtered water (or more if required), 1 tsp sweet pepper, 1 clove garlic (optional), 3 tbsp lemon juice, sea salt.
Home-made Peanut Butter
1 or 2 cups shelled unroasted unsalted peanuts, 1/2 tsp sea salt, cold pressed flax seed oil, boiled water.
Shell peanuts and blend them adding some water (if required) till smooth, and consume with whole grain bread and sliced banana, raisins, or apple sauce.
Date & Nut Butter
1 cup dates (soaked for about 15 minutes), 1/2 cup soaked nuts or seeds, 1 tbsp lemon juice, 1 tsp vanilla.
Blend all the ingredients together and consume with bread.
Date Butter
1 cup dates (soaked for about 15 minutes), 1/2 cup sliced apple, 1 orange, 1 tsp lemon, 1 tsp vanilla.
Blend all together.
Banana Ice Cream

– Peel 2 ripe bananas, slice them, place them in a plastic container or a bag and freeze them. You can also freeze strawberries, pieces of mango or apples, raspberries, blueberries, kiwi, etc.
– About 1/4 cup almond milk or any plant-based milk (coconut milk, soya milk, etc.). Instead of milk you can use a fruit smoothie.
– Vanilla or some carob powder (optional)
– If banana is not enough to satisfy your sweet tooth you can add some xylitol, stevia, coconut sugar, raw organic honey or another healthy sweetener.
– A strong blender (I use Ninja blender) or food processor.
Feel free to play around with the quantities to get the taste and consistency you like. Experimenting with different ingredients recently I have discovered that blending frozen bananas with frozen pieces of mango and apple plus 1 teaspoon of organic peanut butter or almond butter and a little bit of any plant milk creates amazing taste.
Fruits need to be well frozen, or the recipe may not work.
Place everything in a blender or food processor and blend all ingredients. Stop from time to time to scrape the sides and press unblended frozen pieces toward the bottom of the blender. If your blender struggles you can slowly add more milk but be careful as it should be thick and creamy. Finish blending when the consistency is smooth and creamy. I like to have this ice cream with resins and broken walnuts.
Instead of frozen bananas (if you don't like them) you can try other frozen fruits without bananas but in this case you will need to add more sweetener.
Most delicious Vegan Cheesecakes >
Vegan Cheese
1 cup Tofu (soy cheese), 1 cup cashew nuts (can be soaked), 1/2 cup water or unsweetened soy milk, 1/2 cup agar, 4 tbsp yeast flakes (nutritional), 2 tbsp lemon juice, 1 clove minced garlic, 1 tsp turmeric (curcuma) (optional), 2 tsp sea salt, 1/4 cup or less of yellow or white miso (optional).
Blend all ingredients until smooth (add water or soy milk while blending if needed). Place the mixture in a saucepan. Bring to boil, reduce heat, cover and simmer stirring occasionally for about 10 to 15 minutes, or until thick. Transfer the cheese to a container, cover, let it cool down, and refrigerate for about 4 hours, or until it is gets hard.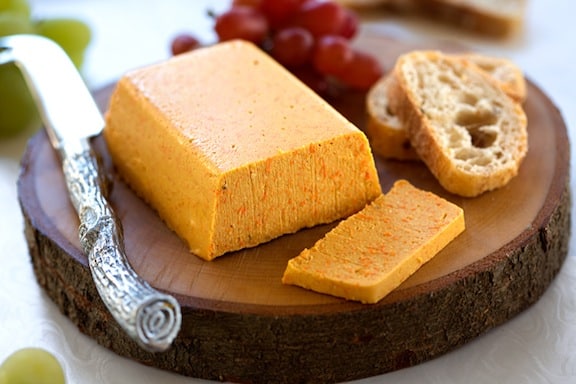 Corn Bread
2 cups corn flour, 1 cup oats, 1 cup soya flour, 1/2 cup coconut shreds, 1 tsp honey, 1 cup filtered water, sea salt.
Mix together all ingredients well and cook.
Cashew Cream
1 cup cashews, 1/2 cup dates, 1/2 cup water, 1 tbsp honey, 1 tsp vanilla.
Blend all ingredients together and serve with bread, oatmeal, fruits, etc.
Healthy Ketchup
2 cups tomato sauce, 1 small chopped onion, 1 tbsp honey, 1 tbsp yeast flakes, sea salt, 1 tbsp of marjoram, oregano, or basil. Blend everything together. You can experiment by adding 1 tbsp of apple cider vinegar.
Avocado Dip
2 soft avocados, 1 cup filtered water, 1 small onion, 1/2 cup cashews or sunflower seeds, 1 tbsp fresh lemon juice, sea salt.
Blend everything together.
Tofu cottage cheese
1 cup Tofu, 1/2 to 1 cup chives (or 1 finely chopped onion), 1 clove garlic (optional), sea salt, 1/2 cup Vegan Mayonnaise.
Mash tofu and mix with all other ingredients.
Vegan Carrot Cake
2 cups 100% whole wheat flour, 3 sliced bananas, 2 sliced apples, 1/4 cup brown sugar, 3 cups shredded carrots, 1/2 cup orange juice, 1/2 cup dates or golden raisins, 1/2 cup shredded (unsweetened) coconut, 1/4 cup of cold pressed oil, 1/2 tsp of salt.
Mix all ingredients well (if the mixture is too dry you can add some plant-based milk or more orange juice), grease a large pan with oil. Put the batter into pan. Bake for about until knife/toothpick comes out clean when inserted in the center. Let it cool down before topping it with shredded (unsweetened) coconut (or soaked and chopped walnuts), and any healthy sweet cream or sauce listed here.
Millet Cashew Cream
1 cup dried millet, 2 cups hot water, 1/2 cup raw cashews, 1 small carrot, 2 tsp lemon juice, 1 tsp agar, 1 tsp sea salt.
Boil millet and other ingredients except cashew nuts and lemon juice, in a pressure cooker. When done, add 1 tsp of agar mixed in 1/4 cup of cold water, and boil for a further 5 minutes. After boiling let it cool down. Place it in a blender adding cashew nuts and lemon juice. Blend until smooth and creamy texture.
Breakfast Fruit Salad
1/2 cup seedless grapes, 2 kiwi fruits (sliced), 1 sliced apple, 1 sliced banana.
Mix all ingredients together and serve with a porridge or crisp breads, and Millet Cashew Cream or other sweet dishes.
Carob Custard
1/2 cup corn-flour, 1/4 cup carob powder, 1/2 cup cashew or pecan nuts, 4 cups filtered water, 1/4 cup honey, 1/2 tsp sea salt, 1/2 cup raisins.
Blend ingredients together until smooth. Heat until thick, stirring constantly. Pour into cups, sprinkle with coconut, top with fruits and nut pieces.
Raw Vegan Pistachio Halva with Organic Tahini (VIDEO) >
Blueberry Nut Oatmeal
1 cup rolled oats, 1 cup fresh or frozen blueberries, 1 cup water, 1 cup grated apple, 1 tablespoon ground flax seeds, 7 chopped cashew nuts, 1/4 cup raisins or dates, 1 sliced banana.
Boil oats, cool down, and add other ingredients.
Tomato and Seed Dressing
4 tomatoes, 1/2 cup of sunflower seeds, 1 clove garlic, 2 tbsp lemon juice, 1 small onion, 1/2 tsp oregano or basil, sea salt.
Blend together all ingredients together in a blender.
Serve with lentil or chickpeas spreads, vegetables, salad or pasta.
Polish vegan bigos (A delicious sauerkraut, cabbage and mushroom stew)
1 head green chopped cabbage, 5 cups drained sauerkraut, 1 can or 10 tablespoons of tomato paste, 1 or 2 cups Pieces of Soya protein or Baked Tofu, 5 cups water, 5 bay leaves, 2 raw organic coconut oil, 6 cups chopped onions, 5 cups chopped Crimini (Baby Bella or brown) mushrooms, 1 whole head of minced garlic, 2 teaspoons Celtic, pink or sea salt, 3 teaspoons dried marjoram, 7 juniper berries 2 teaspoons paprika, 1 teaspoon cayenne pepper.
Place chopped cabbage into a large pot or slow cooker, add water and bay leaves.
Bring to a boil, then reduce heat and allow to simmer gently.
Heat coconut oil, add the chopped onions, mushrooms, garlic, and salt and fry for 5 minutes.
Turn off heat and add marjoram and paprika.
Add chopped cabbage, pieces of soya protein (or pieces of fried or baked Tofu), juniper berries and stir.
Once the cabbage is tender add sauerkraut and tomato paste and stir well until all ingredients are thoroughly combined.
Continue to simmer over low heat for about 30 – 60 minutes or longer.
Add Celtic salt.
 Raw Sauerkraut (the best way to increase probiotic bacteria in your gut):

Delicious Easy Grillable Veggie Burgers >
To find more healing recipes use the following links:
Share this website!