.
CANNABIS – THE BEST CURE FOR CANCER?
Cancer recovery story by James Woolsey (posted on 3/9/2014): "When living in Oregon we took a cancer patient into our house. Her abdomen was swollen as if with a basketball; the allopathic MDs had given up after all their burn and poison methods had failed; they sent her home to die, and the Hospice people showed up to serenade her with guitars and cellos; a nurse provided all the methadone she wanted. She could not hold down food or walk to the bathroom. She groaned in pain. She had never had cannabis before. After her first deep drag of vaporized cannabis a sweet smile of relief spread over her face; that alone would have melted any compassionate heart. Soon she could walk to the bathroom and eat bit by bit. We started her on Rick Simpson oil (simple alcohol extraction of the entire plant) … The outcome? Within 2 months she was completely cured, and her oncologist said the cancer was gone. She packed her bags and moved to her own apartment to resume her life. Now here's a cautionary note: as natural oriented healing people know, much disease is caused by repressed emotions. The psychoactive side of the oil caused vivid dreams and old repressed memories of pain to come out. She was able to forgive her fanatical 'naturopathic' mother who repeated forced enemas on her as a child (anything can be twisted. I am not putting down enemas by any means!). Then she was able to contact her daughter and repair their rift, which was a sad replay of her own mother-daughter meme. I also knew someone who overdid the oil and flipped out for a while. Psychic content can be toxic too, so be wise go slow!" (Source >)
On 22nd of May 2016 the Daily Mail publishes an article titled "Grandfather, 63, claims he cured his cancer with 'Breaking Bad' style homemade CANNABIS OIL". It says: "Mike Cutler, 63, was diagnosed in 2009 after blacking out at work – and was given a transplant in November that year. He was given the all-clear but says the disease came back in late 2012 – attacking the new organ he had been given. Desperate to survive, he began to look online – and found a YouTube video which described the use of cannabis oil as a cure. He claims that just three days after taking the class B drug, his excruciating pain disappeared. In May this year, the grandfather-of-nine went for a biopsy at the Royal Free Hospital in London. To his relief, doctors told him the new cancerous cells had vanished. A spokeswoman for the Royal Free Hospital confirmed Mr Cutler had not received any cancer treatment since his transplant in November 2009.
Mr Cutler, a retired builder from Hastings, East Sussex, said: 'Finding out I could die was terrible. 'All I had in those dark days was my laptop, and that's when I began searching for something else that could help me – I couldn't accept I was going to die. When I found out I was cured I was just completely shocked. I'm a normal family man, not a druggie. I had a serious illness and this helped.' He started taking cannabis after watching a video online about how it could help cure the disease. After purchasing the drug through a dealer, he began to cultivate his own tablets from the oil, taking one capsule a day. When his symptoms disappeared after three days, he began growing his own cannabis plant to keep up a steady supply of the medication. Mr Cutler was one of the speakers at an event last week about the medical use of cannabis – along with Professor David Nutt and MP Caroline Lucas at Brighton Community Centre. He is now campaigning for changes in the law to allow the oil and other forms of cannabis to be legally used medicinally to treat other people." (source >)
According to Dr. Robert Ramer and Dr. Burkhard Hinz of the University of Rostock in Germany medical marijuana has a great potential to be a very effective natural remedy for treating cancer. Their research was published in the Journal of the National Cancer Institute on 25th of December 2007. In the Conclusion of the study they wrote: "Cannabinoids may offer a therapeutic option in the treatment of highly invasive cancers." (Source >)
Rick Simpson invented a unique and simple home technology of extracting a cannabis oil which seems to be a very effective remedy often able to cure many people from various types of cancer.  On youtube you can fnd numerous recovery stories reprted as a result of using the Rick Simpson oil. He has been sharing this oil with his family and friends without charging for it. What is imporant, although the oil still contains some psychoactive THC, taking small doses of the oil makes people well but unlike smoking cannabis it doesn't get them high. There are some other methodes to use cannabis against cancer but the Rick Simpson oils seems to be most effective. READ MORE ABOUT RICK SIMPSON OIL >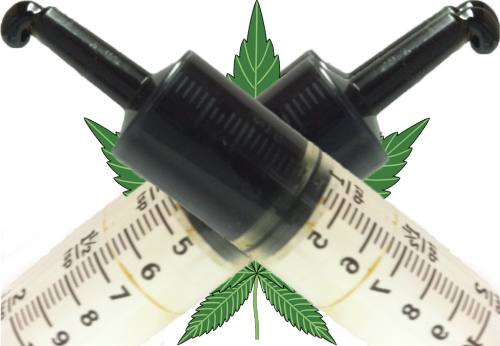 Another good option for some conditions and for people who wish to avoid THC and the high is juicing good quality raw cannabis indica. However, from what I have learned it looks like the Rick Simpson cannabis oil works better in treating cancer as raw cannabis  does not seem to have the same medical benefits as heated one. It is explained by the fact that THCA in raw cannabis does not activate the CB1 or CB2 receptors as effectively as THC (from extracted oil). For this reason the raw cannabis such as juice is less potent and effective against cancer. However, taking into consideration many recovery stories and testimonials for some people with some conditions raw cannabis juice seems to be extremely powerful and might be even more effective than heated formulas such as Rick Simpson oil. The video I included below is an example of unbelievable effectiveness of raw cannabis juice in treating different health problems:
I believe that it is even better to use both the Rick Simpson oil as well as the raw and fresh cannabis indica juice to achieve best results. In this way it will work not only against cancer but many other difficult to treat diseases. Besides, some people discover they can't tolerate the Rick Simpson oil. It is so probably because this oil is too high in certain ingredients created by heating. In this case the raw cannabis formulas especially fresh juice is another good and safe way to go. The cannabis oil extracted according to Rick Simpson's recipe doesn't seem to produce side effects, at least in majority of cases, because it is used in small doses. Juiced cannabis, on the other hand, is even safer and also free from harmful psychoactive effects, but it can be used in much higher doses. The raw cannabis does not trigger the psychoactive effect because without decarboxylation the THC in cannabis still remains in its acid THC-A form which has no psychoactive properties. Only when cannabis is heated it releases the CO2 molecule and as a result THC-A is converted into THC.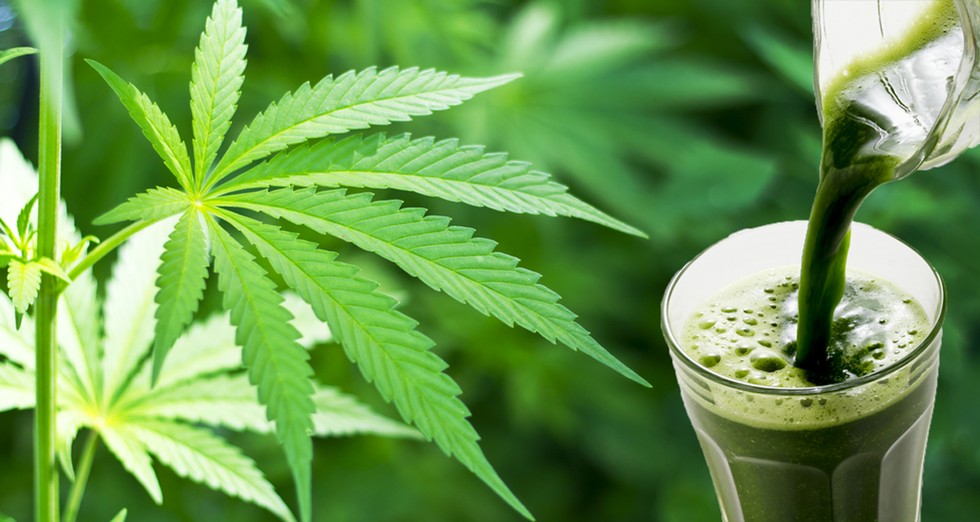 Since I believe a home-made cannabis Rick Simpson oil formula > (combined with the other natural remedies I included in the article about CANCER >) can be regarded as the most powerful remedy able to cure many types and cases of cancer as well as other numerous health conditions we need to know how to use it in order to get only benefits without harmful effects associated with the dangerous psychoactive ingredient THC found in cannabis. And, fortunately, there is a specific method of extracting oil from carefully chosen cannabis species which is very potent in killing cancer and helping to cope with other diseases. The good news is, however, that this oil will not cause side effects associated with THC if prepared and used according to the instructions described by its inventor – Rick Simpson >.
Rick Simpson Oil (RSO) written recipe >